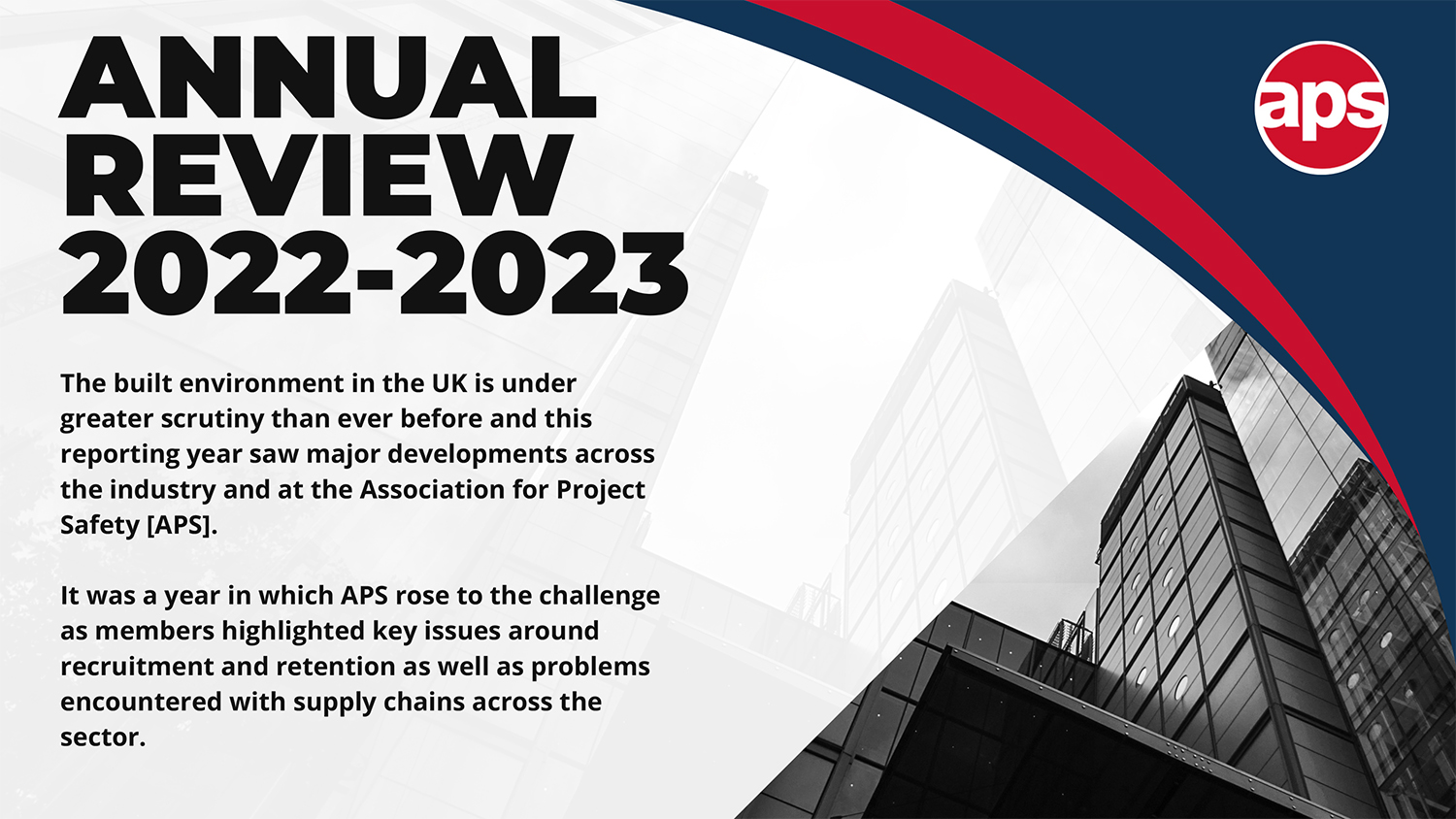 The Association for Project safety has published its annual report for 2022-23.
The government's response to the Grenfell disaster was realised in the Building Safety Act 2022 which made its way to the statute book in spring. The association had been active, talking to members of parliament and key officials, during the passing of the Bill. APS kept this dialogue alive when the Act received Royal Assent in an attempt to help inform the shape of the secondary legislation.
The association is very aware members are keen to know how best to meet their professional obligations under the new regulations so began an occasional series of information webinars to bring members information as and when it became available.
The association's general output of events and information continued to grow offering more opportunities for members. Webinars remain very well attended and members were also able to attend two national conferences featuring headline speakers from across the built environment. APS's acclaimed CPD sessions focussed on general health and retrofitting and remained available to all members inclusive to their annual membership.
All members also received four editions of the APS magazine, relaunched in this period as the Project Safety Journal, which is now supported by its own dedicated website allowing the association to keep everyone up-to-date with news between issues.
APS remains keen to expand its services and enhance the experience of both individual and corporate members. The association aims to grow its network of industry partnerships and increase its engagement with elected representatives across the four nations.
Building on the success of its government engagement APS was also active, on its own and in association with industry partners through the Construction Industry Council, in highlighting issues around both recruitment and the Retained EU Law (Revocation and Reform) Bill [which has since become an Act of Parliament]. The association has also been talking to members of the Scottish Parliament with a view to addressing devolved construction safety issues north of the border.
On the domestic front the association completed its overhaul of governance with members voting on the proposals in December 2022.
Ray Bone, who became chair in October following Jonathan Moulam's term, remained in post when a new board of directors and group of regional representatives took up office in February 2023. The search also began for an independent chair – a new role created by the changes.
The association continues to be expertly run by a small, dedicated professional team which has been constant throughout the period. Staff were able to continue with a hybrid working model with most working remotely for much of the time.
Too often health and safety risk management in construction has been a Cinderella subject. But APS is determined each and every member can go to the ball and they can shine in their chosen roles. The association may be small but, increasingly, it is a mouse that roars.