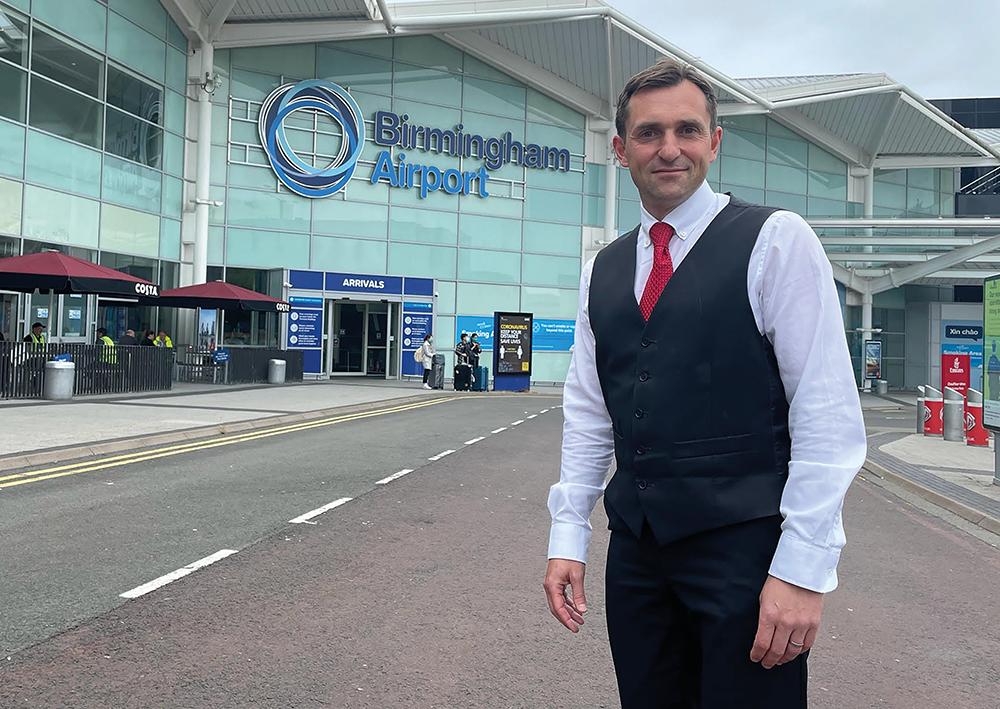 Simon Toseland, head of health, safety and fire at Birmingham Airport, tells PSM about the challenges of working in a complex, fast-moving environment.
This is a 24-7 environment. First thing in the morning, we go through what has happened overnight and see if there are any issues to follow up on.
There are five of us in the health, safety and fire team, including me. We are the support and advisory arm for our colleagues across the airport and for all our different tenants and users, such as the baggage handlers.
Everything we do, from putting monitors up to enhancing the fire system to roadworks, is covered by CDM. Pre-Covid, passenger numbers were expected to rise from 13 million to 18 million and we were in the middle of a big scheme to expand the airport terminal. That has been put on hold for now.
What skills do you need for your role?
You do need a really good understanding of health and safety legislation but, to be honest, when I reflect on my role, there's very little about looking at the regulations. It's those professional soft skills that are vital: having strong communication skills, using emotional intelligence to really look at the situation.
Simon Toseland CV
Head of health, safety and fire at Birmingham Airport since 2019
SHEQ director at FM specialist Norse Commercial Services
Compliance services director at Salisbury Group, responsible for 350 HMRC premises
10 years in consultancy, mainly CDM roles for a broad range of clients in multiple sectors
Eight years at hotel and leisure complex, starting as duty manager and then training to become health & safety manager
What have you achieved since arriving at the airport?
We have made huge strides in terms of management systems, in particular CDM. One of the things I was recruited to do was to achieve ISO 45001 accreditation, which I have done.
I am proud that we now have a strong near-miss report culture. We introduced an app which is really simple and straightforward to use and people report in confidence. Since we brought it in, use has risen and now we receive around 100 reports a month.
We got a lot of support from the CEO, Nick Barton, which is really crucial for success in health and safety initiatives. We try to give a lot of feedback to say what we have done in response to reports. We also carry out trend analysis to work out if there are patterns or behaviours we should investigate further.
What are the biggest challenges? Because the airport operates 24-7, it's a challenge to engage with all the different people who work here on different shift systems. We also have our own fire service and West Midlands Police unit on site who we need to engage with.
Something perhaps we don't do as well in health and safety is sharing success. We are very good at telling people when we have done something wrong but what about when something has gone right? Sharing safety successes is absolutely crucial to getting engagement and transforming the culture. It's the people on the shop floor who deliver a project successfully.
What was the impact of Covid-19?
It has been both a help and a hindrance. The downside is that aviation has been dramatically hit.But in some ways, it's enabled us to develop our health and safety culture. All of a sudden, everyone's talking about risk assessments and engaging with health and safety.
"We have made huge strides in terms of management systems, in particular CDM. One of the things I was recruited to do was to achieve ISO 45001 accreditation, which I have done."
Simon Toseland
We are constantly reviewing how we operate, via our command structure. We use a command structure to assess and implement change. Our bronze teams are small groups of frontline staff who assess their departments and feed back into the silver team. The silver team creates processes and procedures, ensuring that they are consistent across the airport. Gold level is the executive team who oversee what we do.
Looking back, what was your most memorable project?
In 2007 or 2008, I worked on a scheme to upgrade the Grade II*-listed Crystal Palace National Sports Centre for use as a training venue for the Olympics in 2012. The project just grew and grew. Every time we did a survey, we found something else: bridges that needed support, asbestos, a leak in the pool. Because it involved a lot of stakeholders, it was quite a political project too. CDM 2007 had just dawned on us and I was the CDM coordinator on that project. It was a great learning opportunity.
What advice would you give to people at the start of their career?
Be pragmatic. Focus on the significant risks because nobody has the budget and resource to look at every single risk. We have created a corporate risk register so that we can establish what the most significant risks are and focus on them.
What is the best piece of advice you have received?
That's really difficult. I have been privileged to work with some great health and safety leaders. Clive Johnson, as head of health and safety at Landsec, always promoted being a health and safety leader. We always call ourselves managers, but we are more like leaders. You have to lead by example to have a positive impact on attitude and performance.