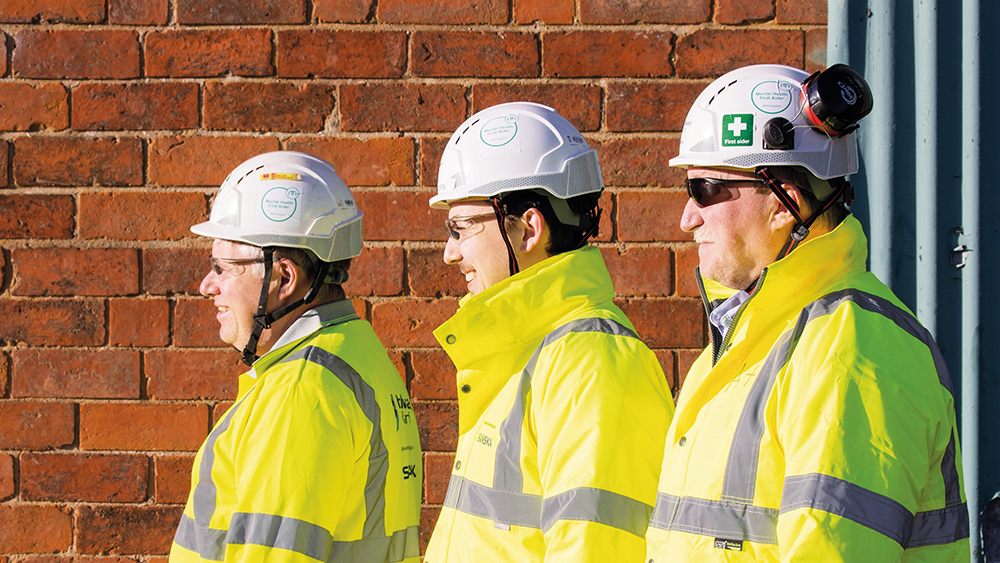 It is five years since Skanska UK began its mental health awareness journey. Tricia O'Neill explains how the culture of the group has changed – and what the next steps are.
It's easy to say "Let's talk about mental health". But less easy to do it. That's why, when we started our journey towards a better mental health culture back in 2016, we decided not to train mental health first aiders immediately. If people don't feel able to talk about their mental health, those vital first conversations with first aiders are far less likely to take place.
Instead, we focused first on mental health awareness training, delivering half-day sessions to as many people as we could. Initially, we offered the training to anyone who wanted to do it. Then, three years ago, we upped the ante by making awareness training one of our key performance indicators (KPIs) for the executive team and senior managers.
Today, nearly 60% of our 3,300 UK staff have been through mental awareness training and we have a network of 165 mental health ambassadors, trained with help for Mental Health First Aid (MHFA) England.
We've also been working to include our supply chain in this culture change. Poor mental health is endemic in construction, given the demographic, the peripatetic nature of the work and long hours on site.
"Today, nearly 60% of our 3,300 UK staff have been through mental awareness training and we have a network of 165 mental health ambassadors."
Around 250 people from our supply chain, mostly HR and senior directors, attended training courses, which we delivered to them free of charge. For SMEs in particular, signposting to resources has proved one of the most useful elements of this training.
When it comes to changing culture, strong leadership is as important as building capability and resource. Our CEO Gregor Craig has been a strong advocate, talking about the wider impact of mental health on his own family and using his platform as chair of the CBI Construction Council to raise awareness.
Just over five years along our journey, we see that the culture is changing. Whereas before, conversations about mental health were few and far between, today they are commonplace. For example, we start meetings with a 'check-in' and it's not unusual for people to mention the fact they've had counselling that week, are experiencing personal problems or that they are feeling low.
Now our plan is to increase our network of mental health first aiders. With the foundations laid, we feel that they can have far more impact on our 50-plus construction sites and in our offices.
Heightened awareness of the things that can cause or exacerbate mental ill health is feeding into the way we plan and tender for projects. It's important that we communicate to our clients how our policies around health and wellbeing translate in practical terms. One of the biggest risk factors is fatigue – reducing this risk requires proper planning and proper resourcing.
There is still plenty more change to come – for Skanska, its supply chain and its clients. At least we can talk about it now. Let's keep talking and keep changing.
Tricia O'Neill is Skanska's UK head of health risk management.