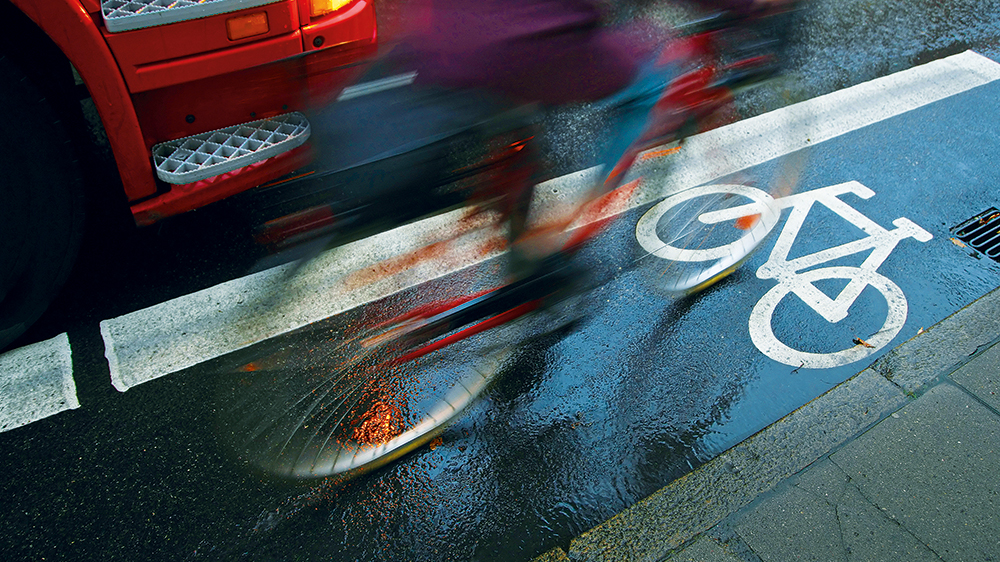 Standards, apps and e-learning are helping to reduce vehicle risk.
The Chartered Institute of Logistics and Transport says that great strides have been made towards improved road safety across the country, and particularly in London, in the past decade. It notes that: "The construction sector in particular has been extremely successful in improving and embedding safety cultures on site."
One major factor in raising the bar for road safety among contractors has been the creation in 2013 of Construction Logistics and Community Safety Scheme (CLOCS), which is a collaboration between the construction and fleet sectors to address shared issues. Drawing on best practice, it has grown to become the industry standard for developers, principal contractors and fleet operators. FM Conway is an active participant In CLOCS, for example.
CLOCS' latest development has been a campaign to further reduce road risk in supply chains – RiSC – which sets out guidelines for safe fleet operations. These cover independent fleet management audits, medical conditions for drivers and ensuring vehicles are fitted with safety equipment to help protect drivers and vulnerable road users.
National industry standard
The CLOCS Standard is a national industry standard. It defines the primary requirements placed on the key stakeholders associated with a construction project and places responsibilities on the client, the principal contractor controlling the construction site and the supply chain – including the operator of any roadgoing construction logistics vehicles servicing that project.
CLOCS client members must specify in tender documents that contractors and their supply chain must comply to the CLOCS Standard.
Among other requirements, principal contractors must make a risk assessment of the project's potential impact on the community. They must also procure site and fleet operations that comply to the requirements of the CLOCS Standard.
Fleet operators are expected to be part of a separate scheme – the Fleet Operator Recognition Scheme or FORS. This is a voluntary accreditation scheme that shows clients the operator follows industry-leading best practice.
To be members of the CLOCS Standard, all construction logistics vehicle operations must meet the requirements described as Silver in the FORS Standard.
Mulalley protects road users
Redbridge-based contractor Mulalley is big supporter of the industry road safety schemes. It says that becoming FORS Gold accredited and a CLOCS Champion "has helped us to make tangible improvements to our own fleet, manage the impact of our sites and our supply chain, to ensure we protect vulnerable road users".
The company has a robust CLOCS procedure in place and has developed in-house e-learning for staff to raise awareness of the standard. Staff also complete the Considerate Constructors Scheme vulnerable road user course.
To monitor compliance, Mulalley undertakes site gate checks in accordance with the risk profile of the site. It has also developed an in-house app to undertake compliance monitoring checks to improve data capture and analysis of the fleet operator requirements.
Costain is another big supporter of the industry road safety initiatives. Since 2016 it has been using e-learning modules, with an online exam on the company's road safety policies and procedures.
In 2018 Costain introduced a requirement for managers to assess the risk to vulnerable road users from vehicles attending site and implement a site-specific transport logistics plan.
The minimum standard the company accepts from its suppliers is a FORS Bronze accreditation, but on projects with a higher risk assessment, suppliers must have attained FORS Silver.