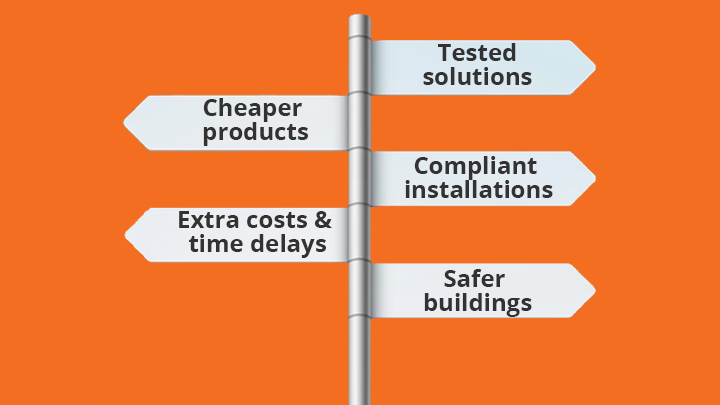 Firestopping product manufacturer Quelfire explains how fully tested systems can add value and save money in the long run.
Quelfire's aim has never been to provide the cheapest firestopping products on the market. Instead, the goal is to ensure the industry has high-quality, tested products alongside all the required support.
With a robust testing programme, our brand provides firestopping solutions for real-life scenarios, based on customer feedback and trends in the market.
With an ever-growing library of tested details, this ensures that the industry has primary test evidence over engineering judgements.
Therefore, the value lies in the cost of the tested system, not the cost of each individual product.
We believe that a building needs to be designed around tested details. To achieve this, we work in partnership with all parties involved in the design and management of the installation of firestopping systems. This ensures they have all the tools and information they need when deciding which solution to use, and how to install it.
We also go above and beyond when educating the industry about the importance of fire safety and use every platform available. This includes panel discussions at exhibitions, CPD-accredited webinars, or one-to-one consultations about early engagement in firestopping.
Why should you pay for more expensive products?
Because the cost of not getting it right the first time around is far greater than working with a competent manufacturer that can support you with tested details and all the necessary technical support.
Any issues during the design and installation stage will inevitably cause extra costs and delays, extending the projected completion date.
For example, if there is no tested solution at the design stage, you will need to go back and redesign. If products are installed incorrectly, these mistakes will have to be rectified. And if issues are found at the inspection stage, you'll not only have to rethink the installation of the firestopping products, but their design as well.
Ultimately, in a worst-case scenario, if errors are not identified during the final inspection stage and a fire breaks out when the building is already occupied, risking lives will be the price of cutting corners and not taking building safety seriously.
Using the right product, with the suitable test evidence and guidance of the manufacturer will result in firestopping being designed and installed correctly.
It may seem more expensive initially. However, money will be saved in the long run by choosing competency over cost and wanting to do it right the first time.